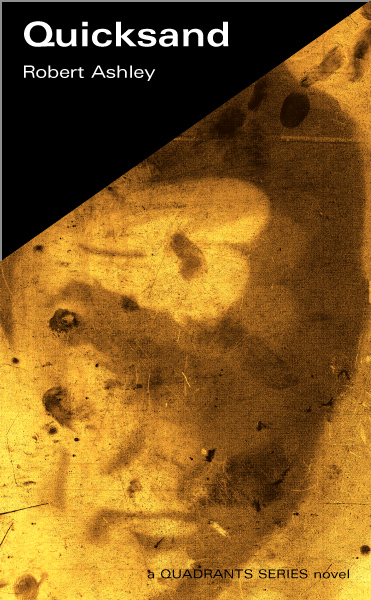 QUICKSAND ISBN: 978-0-936050-32-4 EVENTS
author: Robert Ashley
152 pp., 6.875 x 4.25 in., offset, paper covers
$12 > purchase here (or inquire here) / also: $45 for 5 book Quadrants Series Set
And it is available as an e-book from your favorite e-book provider.
• read George Grella's review in The Brooklyn Rail
• read Edward Morris's review in ForeWord
• read Jeremy M. Davies review in The Review of Contemporary Fiction

Quicksand was written to be an opera libretto. But it was written in the form of a novel. . . . I am devoted to "mystery" stories. I read them one after another, mostly two or three times. Some of the best writers today are writing in this form. So, I thought that I would try to make an opera libretto from a mystery story, told verbatim. That is, the libretto and the novel would be the same: no scenes moved around or actions adapted to the proportions of a libretto, just tell the story the way it's told in the novel. But first I needed a novel. . . . So that meant I had to write a mystery novel. Where do you start? The answer is: I always need a "location" to be inspired to tell a story. Everything in the novel is true, except for a lot of the facts. —Robert Ashley
ROBERT ASHLEY is best known for his operas: epic prose poems he sets to music, which have been awarded, commissioned, and performed internationally for over forty-five years. He was born in Ann Arbor, Michigan, and he lives in New York City. This is his first novel.
• Mary-Charlotte Domandi interviews Quadrants Series authors, including Robert Ashley, on the "Radio Cafe," KSFR 101.1 FM ((( play audio )))


For more information about Robert Ashley click here.
Other Ashley books: Atalanta / Perfect Lives / Crash / The Guests Go in to Supper / Q+1


THE QUADRANTS SERIES debut novels by seasoned writers