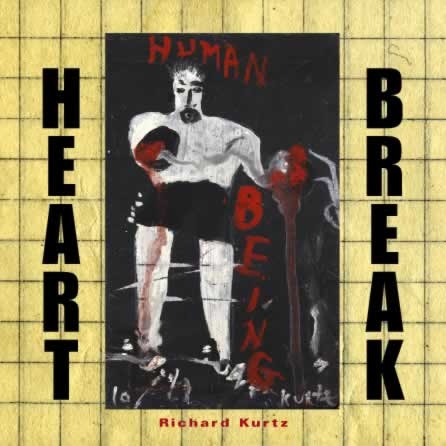 HEART BREAK (HUMAN BEING)
author: Richard Kurtz
painting / poetry
48 pp., 6.5 x 6.5 in., perfect bound, paper covers
editing & design: Melody Sumner Carnahan & Michael Sumner
Burning Books, Santa Fe, 2010
The first printing of HEART BREAK (Human Being) is limited to 200 signed copies with an original drawing in each. This is a facsimile of the artist book by Richard Kurtz, hand-painted in a Moleskine Pocket Japanese Accordian Album.
$65.00 (includes shipping)

There is an honesty and a poignancy in this work. To me, Kurtz stalwartly embodies many of life's unavoidable contrasts—in and out of his studio. His work lives in those remarkable places where opposites meet, collide, coalesce . . . — Linda Durham, Linda Durham Contemporary Art

Published by Burning Books with Artopia in conjunction with the Richard Kurtz exhibition, November 2010, at Artopia Gallery, Miami, Florida, 305.374.8882

• Finalist, Eric Hoffer Book Awards, Art Category, 2011

TO ORDER: CLICK HERE and tell us what your mailing address is. We'll initiate a PayPal "Request Money" transaction, and ship the book when your payment clears.