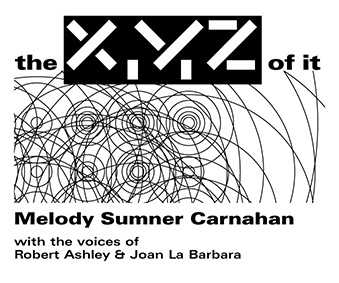 THE X, Y, Z OF IT
(29:25)

A composition for radio, written and produced by Melody Sumner Carnahan for ABC Radio, Audio Arts, Sydney, Australia, 2000. A verbal meditation on 'Äúdistance'ÄĚ as we know it.

Listen to entire recording here.

principal voices: Robert Ashley & Joan La Barbara

additional voices: Paul Goddard, Peter Kowitz, Sarah Aubrey, Vanessa Downing, with studio direction by Richard Buckham.

sound engineering: John Jacobs
sound design assistance: Michael Sumner
music by Mayim Alpert, and Spilt (David Smith and James Hurley)
recording of solar flares by Tom Ashcraft

Read about the project in How2 Journal.
THE X, Y, Z OF IT / CD-R $7.00 - free shipping